What is Watercolour?
Watercolor or watercolour, also aquarelle, is a painting method in which the paints are made of pigments suspended in a water-based solution. Watercolour refers to both the medium and the resulting artwork.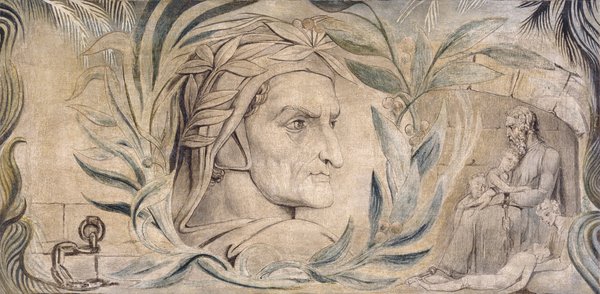 Dante's Divine Comedy by William Blake |Credit TATE
As watercolour is semi-transparent, the white of the paper gives a natural luminosity to the washes of colour. White areas of the image often are merely left unpainted to expose the paper. The white paper creates the whites. The darkest accents may be placed on the paper with the pigment as it comes out of the tube or with very little water mixed with it. Otherwise, the colours are diluted with water. The more water in the wash, the more the paper affects the colours. 
According to Tate, "Watercolour paint consists of fine pigment particles suspended in a water-soluble binder (adhesive substance)."  Transparent watercolour allows for a freshness and luminosity in its washes and for a deft calligraphic brushwork that makes it a most alluring medium. There is one basic difference between transparent watercolour and all other heavy painting mediums—its transparency. 
The Blue Rigi, Sunrise, Joseph Mallord William Turner (1842) | Credit TATE
Watercolour paint is made by mixing pigments with a binder, usually, gum arabic, and then applying it with water to a support such as vellum (fine animal skin) or paper. The water evaporates and the binder fixes the pigment to the support. 
Watercolour paints are coloured pigments either filled in tubes or dried up and filled in colour palettes. Artists use watercolour for various reasons: it is a great medium, the flexibility of the transparency is a benefit and there is also a glow in watercolour paintings. 
"Watercolour is probably the most satisfying of all mediums. Although difficult in the beginning, after practice its mysteries will unfold, providing the utmost pleasure for the dedicated."

- Robert Lovett.
Watercolour painting is very old, dating perhaps to the cave painting of palaeolithic Europe. In mediaeval times, artists illustrated the vellum pages of hand-written books with brightly coloured paintings in watercolour. Watercolours were also painted on papyrus and used in Egyptian art forms. It emerged in Europe during the Renaissance period with advancements in paper-making.
Schloß Windsor, Ansicht der Nordostterrasse, Paul Sandby (1760) | Credit Wikimedia
"The good watercolours take a lifetime - plus a half an hour." - Toni Onley
While early European artists prepared their own watercolour mixtures for fresco wall painting, this was soon applied to paper. Watercolour painting really gained a foothold in Western art during the 18th century, particularly in England.
 The unique effects of light and freer brushwork created by the English school of watercolour painting caught the attention of the early Impressionists and influenced their work, it emerged as a medium used by many prominent artists.
 Twittering machine, Paul Klee (1922) | Credit Paul Klee
"If I have any advice to anybody it's this: take up watercolour painting." - Charles Bukowski.
Into the 21st century, artists have taken advantage of this unique medium to create striking works of art. Above all, watercolour painting is versatile, alternately offering rich, vivid tones or soft, soothing forms.
The white house in Chelsea, Thomas Girtin (1800) | Credit TATE
Legendary artists like Albrecht Dürer, William Blake, Joseph Mallord William Turner, Elizabeth Murray and many others used watercolour for painting. William Blake used watercolours to paint Dante's 'Divine Comedy', which is one of most famous watercolour paintings now.
Did you know that we offer an Introduction to watercolour in our workshop at THE SPACE gallery? Join us for a class and enjoy the freedom and creativity from watercolour painting.
Reference
https://www.tate.org.uk/